Are you ready to change your life?  Meet the whirlwind!  Been there, done that, and has the book to prove it.
Meet Jackie →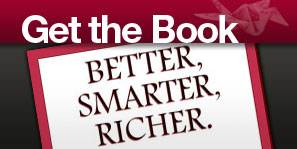 Ready to do the work?  Here are ideas and exercises to help you get started!
Get the Book →
Listen to Jackie's interviews with influential entrepreneurs.
Go to Jackie's Broadcasts →
Hello! I'm Jackie B. Peterson.
I am the leading authority on becoming a successful solopreneur. Better Smarter Richer, the method I developed, will help you make a living doing what you love.
Better Smarter Richer teaches you how to make money and grow your business without hiring employees–so you can focus on doing your art, counseling your clients, designing your webpages, or monetizing whichever expertise you choose. This proven system works for writers, therapists, artists, encore entrepreneurs, and more.
Have you ever given up on your dream because you don't know how to make money? Better Smarter Richer is totally different than what is traditionally taught as the basis for business. My method has been proven to work again and again by hundreds of users and has been adopted by individuals, schools, and Small Business Development Center programs throughout Oregon.
7 Ways to Make Your Unique Talents Pay
With the right tools in hand, your talent can change your life. I have seen it happen and it can happen to you.
Solopreneurs–including creative and encore entrepreneurs–are the most interesting business creatures anywhere. They are changing the world in a thousand different ways with passion and expertise, persistence and idealism. But the very nature of solopreneurship brings its own challenges — distraction and lack of focus being just two. This ring any bells?
You should know that it doesn't have to be this way. It's within your power to make your business work. And pay.
My 7 Principles for Encore, Creative, and Solo Entrepreneurs
1. Focus on a deep narrow niche.
2. Articulate your unique value proposition.
3. Fend off mission creep.
4. Develop a business mindset.
5. Avoid the time-money squeeze.
6. Understand your target audience.
7. Market every day.
With You in Mind: A New Kind of Business Advice
If you work as a solopreneur — writer, photographer, web designer, financial planner, massage therapist — YOU are the business. That's why traditional business advice won't work for you. Traditional business expects you to grow by hiring and managing employees.  Solo businesses grow by developing their mastery in a deep and narrow niche and then outsourcing the support services they need and collaborating with other professionals.  As a creative thinker and solopreneur with a passion for creative people, I saw the need for a new kind of business advice. So I wrote a book designed to help solopreneurs become Better, Smarter and Richer.
Small Miracles and Big Ones, Too
In my book, Better, Smarter, Richer, I dig deep into the seven principles (with real life examples) to help solopreneurs, including encore and creative entrepreneurs, turn passion and expertise into more business and more money. In my consulting work, I help you animate these seven principles inside your business. If you follow these principles, you can expect small miracles and maybe some big ones, too.
The Better, Smarter, Richer workbook can help you retool your thinking. You'll make new resolutions and plan a strategy for prosperity. You'll also find out:
How much you need to sell every month in order to earn what you need, want and deserve.
Who your best customers are and where (and how) to find them.
If you are charging enough for your work. (You're probably not.)
Your talent can change your life. Working together, we can grow your business.
Broadcasts
Listen to Jackie's new interviews each Wednesday afternoon here on the Broadcasts page or on Soloproradio.com.