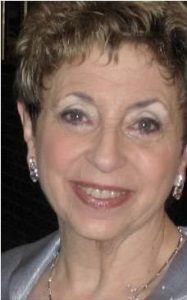 Ann Smith is in the business of putting out fires in libraries…metaphorically speaking. She has built her "second act" on a beloved African proverb that many of us are familiar with: When an elder dies, it is as if a library burned to the ground. Her passion for listening to and preserving stories has led her to create her encore business, Life Stories Remembered, LLC, which gives individuals the opportunity to preserve their memories and life stories in a variety of formats.
Ann has a pretty fascinating life story herself: now a resident of Wilkes Barre, PA, she's a Manhattan native with degrees in Education and Social Work and a background in special education, hospital social work, and private psychotherapy.
Although not religiously affiliated growing up, she became deeply involved in the Jewish community of Wilkes Barre, and was a pioneer for her synagogue's adult Bat Mitzvah program. This paved the way for other leadership positions, and eventually she started moving in the same circles as Max Rosenn, Judge of the 3rd Circuit Federal Court, renowned attorney and jurist, and most respected legal authority in Northeast Pennsylvania, who was actively practicing law until he died at the age of 95. At a community dinner, he started sharing incredible memories of his childhood. Impressed by his amazing recall of dates, names, and events from decades past, Ann asked if he had preserved those memories in some form:
"He said he had been interviewed about his professional life but when approached about his personal life people asked him to dictate his memories into a cassette recorder," Ann writes. "That did not appeal to him so he declined those offers. When I suggested I interview him in person he was very interested—the power of the personal connection. I went to his chambers thinking I would be there for an hour or two. In fact, the interview extended over a period of 25 hours—six months! He truly enjoyed the experience and years later, after his death, his sons were thrilled to have that first-hand material."
And so the seed of Life Stories Remembered was planted. Encouraged by her community and supported by the Small Business Development Center at Wilkes University, she opened her doors in 2008. She has found that the business makes excellent use of her skills, interests, and time requirements, and loves making a difference in people's lives. Ann's story is a fabulous example for encore entrepreneurs everywhere; you'll be able to stream or download her conversation with Jackie on Wednesday afternoon, and can listen any time after that as well.