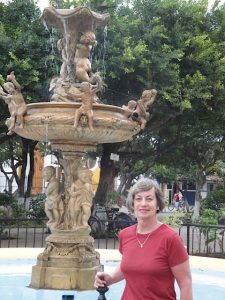 "I am one of those 'mid career change' people," Gay Mitchell admits. She was an elementary and Special Education teacher for twenty-three years, but wound up exhausted and burnt out after more than two decades in the Oregon Public School system. Luckily, around that time she discovered art: "My artist neighbor gave me free painting lessons and I felt such joy and pride that I did not want to stop," she writes. "I began taking art classes at a community college and spent every free minute painting."
Then, when a parent died and left some money, Gay and her husband agreed that it was time for the "big move": she left teaching and began studying Art Therapy at Marylhurst University full time. "Although the coursework was challenging for a fifty-year-old new to graduate school, I loved learning about how art and clinical psychology can be used for healing and growth."
After she graduated, Gay expected to be hired as an art therapist with a clinic, but there were almost zero job opportunities…and that was before the recession. So Gay resigned herself to working as a volunteer art therapist with a children's organization and selling a few paintings on the side.
But finally it all came together: "Next, I tried teaching art privately to kids in my neighborhood. I set up a studio and more and more kids came as the word got around." It's been two years now, and Gay weaves art therapy into each of her lessons. Her final thoughts are worth reflecting on: "Now as I look back on all the disappointments and struggles in my journey, I think I have finally found a perfect balance between art, teaching, and therapy in my own home, working the part time hours I choose and allowing me to paint and [my husband and I] to travel."
Here at Better, Smarter, Richer, we have always been passionate about helping creatives make a living doing what they love, and Gay's story resonates on a deep level; as an artist, encore, and solo, her career journey represents the intersection of three of Jackie's favorite small business demographics. You'll be able to stream or download their conversation right here next Wednesday afternoon, and you can listen any time after that as well. Remember, the BSR Broadcasts (Jackie's weekly show on Solo Pro Radio) are now available for listening right on the Better, Smarter, Richer website, so check back often!