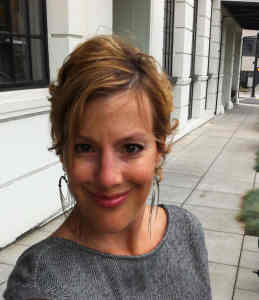 Heidi McBride is a matchmaker…but not in the way you might think.
Heidi is a native Oregonian who studied at U of O and graduated from the University of San Francisco with a B.A. in Communications and Business. Her work history covers communications, advertising, sales, business development and design, and everything in between. Now, she has found a way to combine her talents and skills with her passion: art.
That's right: Heidi is an art matchmaker.
"When I look back, at the heart of all of it, I was a match-maker and someone wanting to shape and create experiences for others," Heidi writes. "Combined with my visual sensibilities, interest in design, authenticity and originality, I eventually carved out a niche for myself that combined all of my values, skill sets and interests. Now its just a matter of getting the business aspects tuned so I can do what I am good at." Heidi McBride Space Design with Original Art is all about helping people integrate original fine art into their homes, offices, and public spaces in more meaningful and intentional ways. She is an avid art collector herself, and has firsthand experience of the impact art has on shaping environments and affecting lives, so she is passionate about connecting talented artists with people who want to transform their homes and businesses. Her accommodating gallery space, eye for talent, and supportive approach to working with clients contribute to a personalized and fulfilling art-buying experience.
Heidi has worked with luxury penthouses, culinary studios, retirement communities, and private homes (to name a few), and her matchmaking services have been featured in in a variety of print and online publications, including Portland Spaces, Luxe Interiors + Design, Hospitality Design, OregonLive, Portland Monthly, and the Willamette Week (take a look at her press!) She leads the continuing education program at Oregon College of Art and Craft, and just finished a four-year term as a board member on the Oregon Cultural Trust.
In short, Heidi is a success. Please listen to what promises to be a fantastic conversation! You'll be able to stream or download her conversation with Jackie on Wednesday afternoon, and can listen any time after that as well. Remember, the BSR Broadcasts (Jackie's weekly show on Solo Pro Radio) are now available for listening right on the Better, Smarter, Richer website.