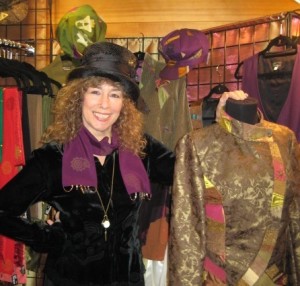 Our passions come in all shapes and sizes…and they find as at all stages of life. At Better, Smarter, Richer, we love helping clients do the work of finding out what love to do and what they're good at; it's a joy to facilitate their journey of articulating (and enacting) what it is they have to offer the world.
But it's equally refreshing to meet someone who has always known what she wants to do…and who is now operating a thriving solo business based squarely on a lifelong passion.
Meet Judee Moonbeam.
Judee started selling her wearable art designs in Portland Old Town shops at the ripe old age of 13, but it hasn't been a straight shot from Point A to Point B. She has a degree in apparel design, but spent years as teacher, a renovator of old homes, a baker, a caterer…and the list goes on. But her primary love of fibers never left her and she has developed a successful business with her beautiful designs, apparel, and fabric art.
Judee is truly inspiring. She teaches art to children and adults, sells her incredible creations in a variety of settings, and is always learning more and reaching farther. Click here to see some of her gorgeous work!
You'll be able to stream or download her conversation with Jackie on Wednesday afternoon, and can listen any time after that as well. Remember, the BSR Broadcasts (Jackie's weekly show on Solo Pro Radio) are now available for listening right on the Better, Smarter, Richer website!