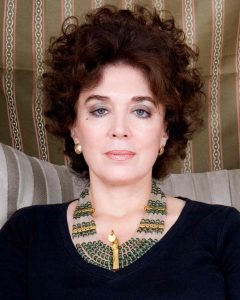 At BSR, one of our favorite things is encountering people who have made it. They've done the work it takes to run a solo business and have found success and personal fulfillment.
This week's BSR Broadcast guest is one of those cases. What a great jolt of inspiration for the start of 2015!
Born in New York, Beret Arcaya has studied singing and acting with some of the greats: from the halls of Juilliard to the Manhattan School of Music, her teachers and mentors have included Uta Hagen and Dr. Robert Abramson. She has appeared on the stage, the silver screen, and a variety of American soap operas. But despite her tremendous success as an actress, singing was always her greatest passion, and she decided to devote herself to her voice.
There was just one problem: stage fright.
It was devastating. Debilitating. Traumatic. It had never been a problem with acting, but it almost put a stop to the singing career Beret wanted so desperately. Until Dr. Abramson recommended she try the Alexander Technique.
It changed her life.
With decades of both practicing and teaching the Alexander Technique under belt, today Beret owns and operates a private practice in New York City called Habit and Choice: Alexander Technique with Beret Arcaya. She has continued to sing professionally, and has given Master Classes using the Alexander Technique for singers and musicians all over Europe; she has taught and performed in Switzerland, Germany, Spain, Austria, Italy, the U.K., and Venezuela, all while maintaining her busy practice in NYC. Her book, The Complete Treatise on the Art of Singing, is forthcoming this year.
Click here to learn more about Beret!
Here at BSR, we're a bit starstruck. Beret has done the work and carefully honed her deep and narrow niche at the intersection of professional music and the Alexander Technique…and it shows. We're honored to have her as a guest on this week's BSR Broadcast, and hope you'll listen to what is guarantee to be a VERY inspiring first show of 2015.
P.S. Check out some of these words of wisdom from BSR superstar and Portland-based Alexander Technique instructor Fay Putnam!