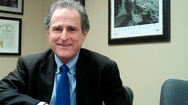 This is such an exciting time to be exploring the concept of aging. We are living longer, healthier lives, and learning so much about what keeps us going—and it turns out that the key might be in our brains.
Roger Anunsen has devoted his encore career to studying the effects of creativity and mind "aerobics" on brain wellness, with a special focus on aging and the prevention of cognitive decline and dementia. He has degrees in political science, business, and economics, and spent 26 years as a legal professional. Today, he is a science writer and creator of the MemAerobics cognitive intervention programs; he hosted the radio program "What's New in Brain Wellness," and developed a cable TV series called "This is Your Brain On…" He was also appointed a voting delegate to the 2005 White House Conference on Aging, is a regular presenter and panelist at American Society on Aging conferences, and presented at the "First Global Conference on Aging" at the University of Oxford, UK in July of 2009. Finally, he is a principal at MINDRAMP CONSULTING, where he teaches brain health curriculum, speaks for a range of organizations across the country, and directs the Brain Health Initiative.
Talk about establishing yourself as an expert! Click here to read more about Roger and MINDRAMP.
It just so happens that Roger's work represents an exciting intersection of some our greatest passions here at Better, Smarter, Richer; Jackie is a career adviser to encore, solo, and creative entrepreneurs, and Roger's research is hugely relevant for all of these populations—and perhaps especially to those solos who are encores and creatives. For instance, did you know that the brain actually experiences a huge creative boost in the "encore" years—50 and beyond? And that there are concrete, practical steps that you can take to maintain your mental wellness, in spite of—or even because of!–the process of aging? Join Jackie and Roger on Wednesday, April 23rd—or any time after that! The BSR Broadcasts (Jackie's weekly show on Solo Pro Radio) are now available for listening right on the Better, Smarter, Richer website. New episodes are posted on Wednesday afternoons, so come on over (and don't forget to check out past episodes while you're here!)