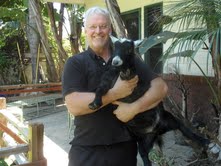 BoomerPDX blogger David Gillaspie has lived a tremendously varied and exciting life.  It has taken him from saw mills on the Oregon Coast to the wrestling mat; from the US Army to the Oregon Historical Society; and from a caregiving role to the blogosphere.  But he's managed to weave these disparate strands into an inspiring career as a writer…and has built a solid foundation with the Better, Smarter, Richer principles.  Jackie will be talking with David on Wednesday, March 27th on Solo Pro Radio.
David has claimed his mastery as a writer.  His blogging has been highly praised, and was acclaimed by the International Blogging Recognition Council (IBRC).  He has published an e-book, and has taken courses on novel-writing, screenplays, and journalism.  In addition, he has participated in workshops at the University of Iowa and the University of Southern California.  But more than that, he has managed to fuse the various elements of his life into grist for the mill of his craft.  Check out his blog!
David grew up on the Oregon coast at a time when summer jobs meant either a saw mill, or fishery. He did both.  Sports were important in his small town and he finished school as a high school wrestling all-American.  Wrestling has played an important part in his life ever since; he credits it with teaching him to "find his stance," and build everything on that.  It has even influenced his craft as a writer, inspiring him to write with structure, clarity, and focus.  Take a look at this great article about the winning combination of wrestling and writing!  (And David knows a lot about sports—check out his recent appearance on the Oregon Sports News Hangout.)
College turned into an on-off affair, with stints in the US Army and New York City wedged between freshman year and a History BS.  Getting married and having kids while working twenty years for the Oregon Historical Society created a grounding effect that infuses his writing today, and spending five years as caregiver for his Parkinson's afflicted father-in-law gave him a new view on health that's also reflected in his work.
David identifies meeting Jackie as a turning point in his career. Working through the Better, Smarter, Richer courses was a validating experience, teaching him to focus on a specific audience, track his time, and master general business information.  In a world of dreams and aspirations, he's found a solid foundation with the seven principles.
You won't want to miss this great conversation.  Tune in to Solo Pro Radio on Wednesday at 11 AM PST/2 PM EST (or any time after that!) and learn how to weave the various elements of your life into an inspiring work of art.