Our radio show guest this week is Jennifer Lee.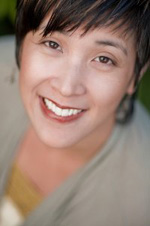 Jennifer Lee grew up painting and drawing but by the time she was in high school she was comparing herself to others and listening to an inner voice that said she was not talented enough, so she did what so many others do and she abandoned that passion within herself to focus on a good "career".  Jennifer consulted in communication management for years and was very successful.  In 2003 her creativity was reignited and she knew what she wanted to do. 
Jennifer is now a certified coach, writer, and artist.   Jennifer Lee is the award-winning author of The Right-Brain Business Plan and the founder of Artizen Coaching.  She grew her private coaching business in her spare time, while still consulting for companies like Gap, Sony, and HP among others. In 2006 Jennifer made the leap fo faith from corporate America to entrepreneurship after realizing she needed to stop living her own dream on the side.
Now she is on a mission to empower people to awaken their innate creativity and make a living doing what they love.  Sounds exactly like the vision of Better, Smarter, Richer.  When Jen's not coaching, writing, or leading groups, she's either painting up a storm, reading in her hammock, practicing yoga, making arts and crafts, or indulging in a midday nap (one of the fabulous perks of being self-employed).
Her bestselling book has helped thousands of entrepreneurs around the world grow their businesses authentically and creatively. Jennifer has been featured in Whole Living, Entrepreneur, Family Circle, Cloth Paper Scissors Studios, and Choice magazines.
To read more about Jennifer and buy her book, visit her website .
Tune in Wednesday, Oct. 3rd at 10 AM PDT/1:00 PM EDT to hear Jennifer's amazing journey and learn how to live your dreams NOW!!  Tune in at www.W4WN.com .