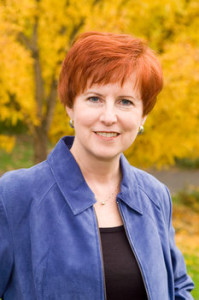 You know when you have an idea that just won't leave you alone? It haunts you: a vision of what might be possible. And have you ever thought about what might happen if you were to make that dream a reality?
That's exactly what Christine Green did. With a background in business and education, 20 years of teaching and counseling under her belt, and lifetime of spiritual questioning, she finally had a transformative experience that put everything in perspective. After a summer of teaching spiritual classes in Brazil, she knew what she wanted to do: she returned to San Diego and immediately began her ministerial training. She relocated to Portland, OR and was ordained in 2001.
Today, Christine is the heart and soul behind Sacred Heart Ministries. Sacred Heart sprang from her vision of sharing spiritual principles and inspiring women to improve their personal and professional lives. Christine has also written Authentic Spirituality: A Woman's Guide to Living an Empowered Life, Anatomy of Caring: Insights on Faith for a Caregiver and Patient, and A Caregiver's Journal. She is a member of Spiritual Directors International, Metropolitan Senior Network, and Portlandia Women's Group, and she volunteers her time facilitating classes for the clients of Dress for Success, a non-profit organization that provides interview suits, confidence boosts, and career development to low-income women in over 75 cities worldwide.
Learn more about Christine, her books, and Sacred Heart Ministries!
Christine is truly living her vision. Her journey is absolutely inspiring, and this conversation will be too.  Tune in on Wednesday, November 13th at 11 AM PST/2 PM EST (or any time after that!) and learn about making your dreams a reality.