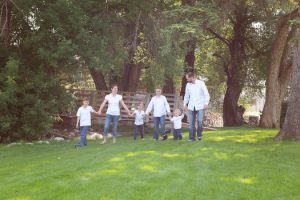 Everyone knows that this is the age of the solopreneur…and it's also the age of the encore entrepreneur: someone who is 50+ and ready to redefine retirement. More and more Baby Boomers are ready to monetize their expertise, follow that bliss they've been dreaming of their whole life, and keep that nest egg growing.
This week, we are delighted to have a Solo Pro Radio "two-for-one deal": introducing Austin Christensen and Shelly Lessard from the American Wealth Group, which is dedicated to providing Americans with a safe and secure retirement planning alternative.
Meet Austin
Austin Christensen lost his older brother when he was 14 years old. "I remember my mother literally slept for about six months after his passing," he says. "It was like an emotional grenade went off in the family." The memory of this trauma inspired him to study Family Sciences, intending to become a marriage and family therapist. He discovered that clinical counseling was not the route for him…but he also discovered the satisfaction of teaching families about financial health, and fell in love with the joy of bringing hope and trust into an otherwise hopeless situation.
What does insurance have to do with hope and trust? Here's what: "I very distinctly remember my father talking to his insurance agent, and the relief I saw on his face when he verified that indeed the policy that he had purchased included a Children's Term Rider which covered the funeral and made one less burden on the family." Talk about a glimmer of light in the dark.
Meet Shelly
Meanwhile, Shelly Lessard comes to the retirement insurance world from a background of self-employment. She was a licensed hair dresser for two decades, owned and operated an RV repair facility with her husband for 13 years, and also had a business building living quarters in horse trailers for the owners. She has coached and mentored children, and has worked extensively with horses, who are "great teachers of many things [like] respect, hard work, patience, commitment, and love."
Shelly's entrepreneurial drive and interest in service finally lead her to the the finance world, where she became a life insurance agent. "I really became excited when I found the Indexed Universal Life policy and joined the American Wealth Group," she says. "This is now my passion: to help others retire and retire tax free!"
This is a necessary conversation for solos of any age. Please join us on Wednesday, November 27th for this lively and very timely discussion about retirement. Tune in at 11 AM PST/2 PM EST (or any time after that!) and learn how to make your encore even better!